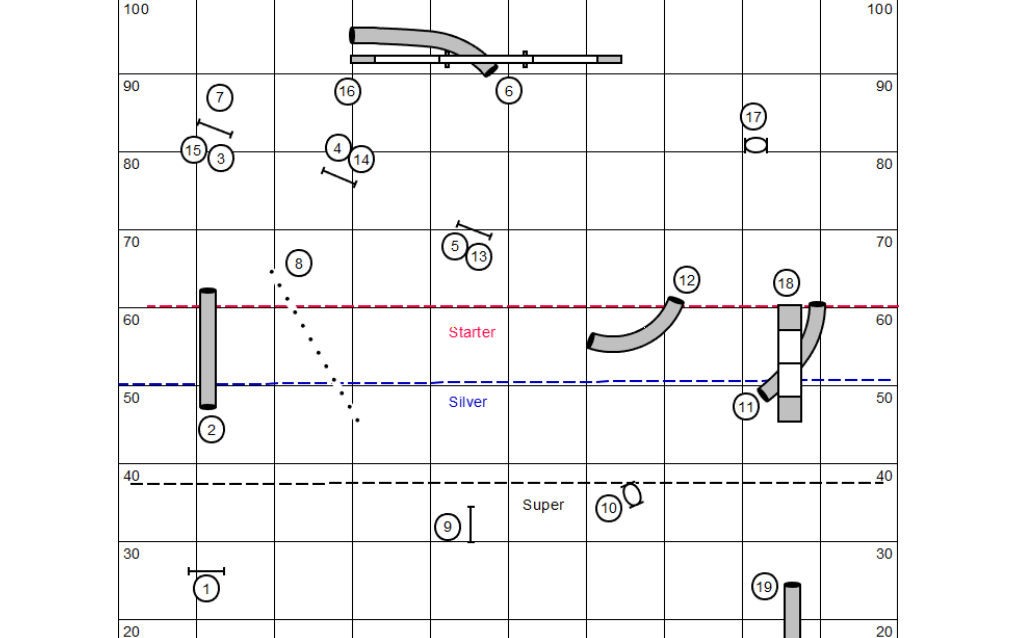 Refining your Plan for Any Course
In our previous post about the Walk-Through titled "Plan for Success", the process of how to go about examining a new course should be completed.  In that process, however, some unanswered questions may have been raised.  Probably the most common question is "Can I get there to do that?"  The question arises because newer handlers are not yet familiar enough with the pace and tempo of their dog to be confident whether one or more options in their plan may work.  Sometimes that is a matter of having a dog who run inconsistently depending on mood and conditions, but more often than not, it's a matter of the handler just not taking the time to learn what their dog "feels like" while they are in the ring.
Fortunately, there's a Game for this!
We often discuss games-based training to encourage specific behaviors in our dogs.  Why not apply that same principle to our own mental training and sharpen the skill of "visualizing" our dog running a sequence?  You can't really answer the question of "can I get there in time?" unless you have an accurate vision in your mind's eye of what your dog looks like performing a sequence while on course.  So let's get that skill sharpened up so you can more accurately develop your plan!
When you approach a new course or sequence in your training session, take a moment to "walk it", then go back and run the same equipment in the same order while visualizing your dog out there working with you.  Offer the same visual cues, run at the same pace, and do your best to "see" your dog working each piece of equipment.  It's fun to record this walk through on video, then record the actual run and compare the two … but if that's not possible, at least take a stop watch to both the virtual attempt AND the first try with your dog.  If you can successfully imagine your dog running a full course within a second of the actual attempt, you're doing well and will be able to plan well at a trial.
Our experience in doing this with teams that have never done this before shows you'll likely be "off" by about 10% to the fast or slow side depending on your confidence in your dog.  Repetition and consistency of doing this from week to week will help you refine the skill!