A BIG SUMMER OF AGILITY FUN!
Thursday nights are special as we invite anyone with a dog trained to perform safely on the Agility equipment to join us for course runs, practice, and possibly Qualifying Runs recorded on our field!
You can run up to four times per evening with each dog.  Training, socialization, experience … all of that and more throughout the summer.  All levels, outdoors on grass with a great group of fellow dog-lovers!
Skills for Life
Your dog can become fun, friendly and focused through games and rewards.  The Rock Solid Dog will, by choice, prefer to spend time with you rather than seeking out distractions.  Our goal is to help your dog understand how to behave so your life together is easier and more pleasant.
Train for Agility
The sport of Dog Agility has become the fastest and most powerful way for a human and canine to develop a great relationship.  Teamwork, trust, and communication are at the core of playing this game and whether you want to take a competitive approach or simply are looking for a fulfilling way to burn off extra energy, we can help!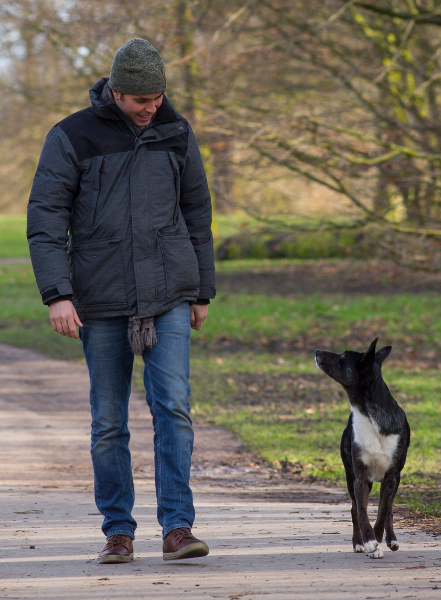 Calm & Confident
Aware of its' environment and doesn't react frantically.  No barking, no leash pulling, makes good choices, conserves its' energy.
Focused & Reliable
Remains "on task" and responsive to its' owner first.  Defers to its' owner for direction when it encounters a distraction.
Positive and displays Self Control
Presumes the best in a variety of situations, is balanced, reflects reality and has a fun nature!
Your dog can be the "talk of the town" … for GOOD reasons.  All it takes is some relationship building  with the right games to prepare you and your dog for the rest of your life together!
This photo truly does tell the story of what a Rock Solid Dog's relationship with its' owner should be.  Total focus and bond, waiting for the next "totally awesome" thing we're going to do together!  (And look … no choke chain or prong collar needed!)
Do YOU want a Rock Solid Dog?
The Rock Solid Dog is one that everyone else wants. Focused, calm, balanced, and fun!
There's no time like NOW to start building a great relationship with your dog!