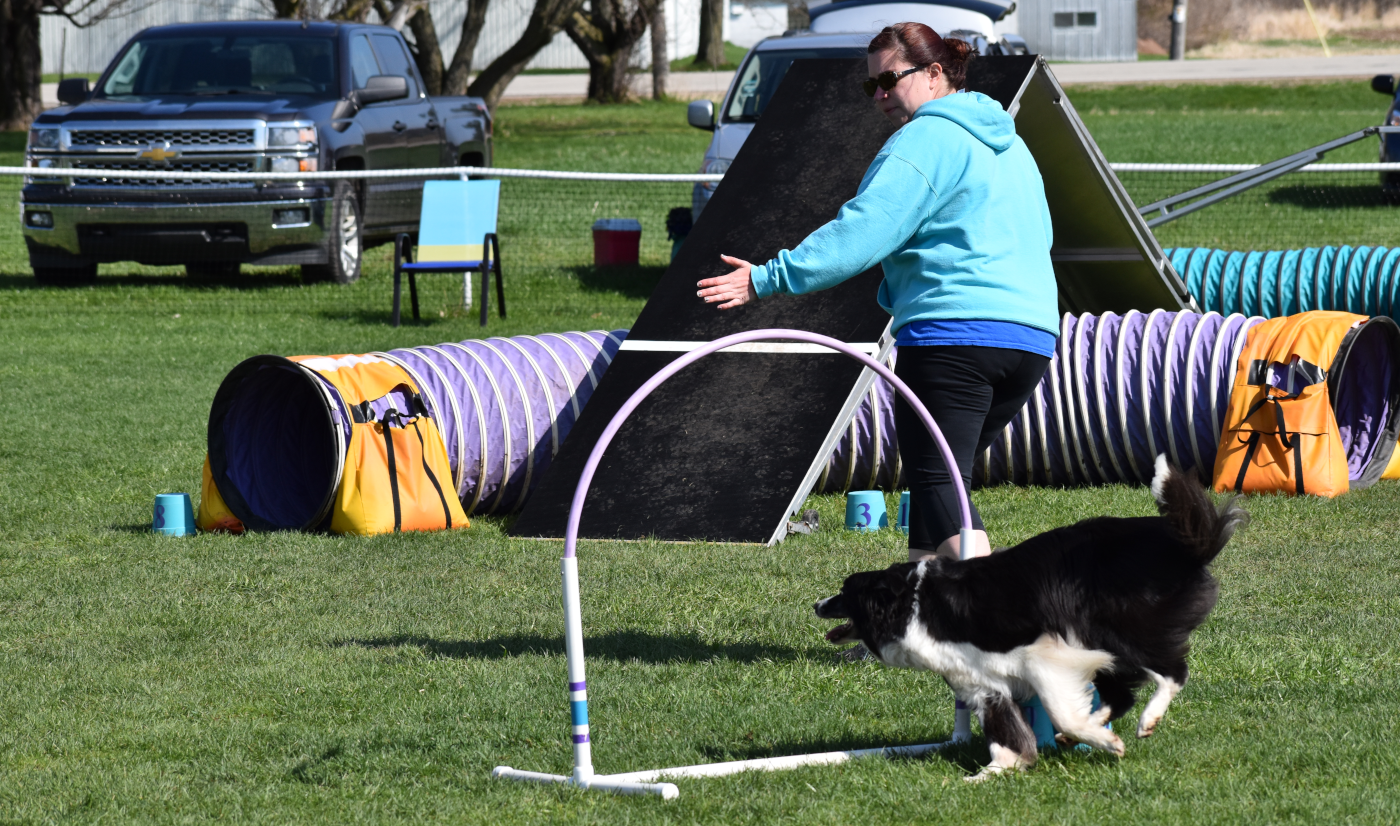 Finally we analyze probably the most challenging element, verbal cues. This handling element tends to need a lot of teaching, as it's not natural for dogs to understand it.
---
Words are important for us people, but not for dogs.
Sometimes we hear upset disqualified handlers, blaming their dog: "I said jump, but instead my dog went for the tunnel!" Their dog was reading the other six handling elements which indicated the tunnel. The verbal cue "jump" was the exception and is the most difficult for dogs to comprehend. In many cases handlers give verbal cues too late, as our studies show that handlers have to give the verbal command about 20 feet before the obstacle, to give their dog time to react and obey.
Only in exceptional cases do we use obstacle names as a command. Our verbal cues are to communicate to the dog what happens between obstacles, like "slow down," "go forward," and "connect." Our exception is the contact-tunnel discrimination, where we teach our dogs to listen to words. We also use verbal cues when releasing our dogs from the starting line, contacts and table.
The challenge with verbal cues is that the more you rely on them, the less you tend to pay attention to the other elements of handling. The focus should be the other way around, as dogs read your body language naturally, but they don't naturally listen to your words! Verbal cues should be used only to support your other handling elements. You can test how little your dog listens your actual words – handle the course and say at every obstacle a word that means nothing to your dog – like get to the tunnel and say "spider!"
Often we use our voice to give our dog reassurance they are doing the right thing by praising them as we go, or using encouraging and enthusiastic tones as well as our main handling cues. You probably know that your tone of voice is often more important for your dog than what you are actually saying.
Especially important for more sensitive dogs, make sure that your verbal commands have a purpose and are working as intended. Sometimes too much is just too much and it may overload your dog and bury the important information.
As a part of our agility training we help students negotiate their way through a training course silently, without any verbal cues. This helps you realize that your dog is perfectly capable of advancing in the course just based on other elements of handling. Of course you do not have to always silently handle your dog, but it's important to make sure you aren't consciously compensating for poor handling choices with contradicting verbal commands.