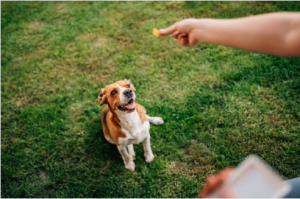 As Dunbar Academy Top Dog trainers, those of us who offer instruction in the Rock Solid Dogs program believe in a science-based approach to dog training that is both compassionate and primarily positive. We understand that the best way to modify behavior is to show our dogs how we want them to behave, and then reward them for acting the right way. We believe that undesirable behavior needs to be redirected, but that corrections need not be unpleasant. Instead, corrections for misbehavior can, and should be, instructive so our dogs can quickly learn what we want them to do, so we can all get back to having fun together.
We also understand the importance of treating the people of the world just as well as we treat the dogs of the world. We understand that the positive and friendly approach we take to dog training is just as effective, and important, when we are trying to train people. Not everyone approaches dog training the way that we do, but the best way to change their mind isn't to shame them or ostracize them or verbally abuse them. The best way to change minds is to lead by example and show them a better way. Share what we know and show how effective it is.
After all, we train the way we do not only because it's fun, but because it works!
It all starts with you filling in the "You and Your Dog" form.  When you do so, you will receive more info by email so we can get off to a great start in our first session!